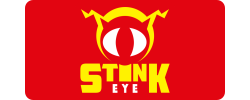 STINK EYE
An ancient evil has awoken, and it just gave you the Stink Eye!

Loosen those thumbs and prepare to raise them in victory when you beat STINK EYE in this fast, fun and frantic slice of arcade shooter action!

Test your reflexes. Blast the sneaky alien invaders, weird critters and mean bosses that are even grumpier than your own?


Featuring
• 6 unique worlds: City, Underground, Countryside, Undersea, Tropical and Space
• Tons of unique enemy types
• Unique Boss fights at the end of each level.
• Fast-paced and addictive shoot-em up game play
• Unique and original art style in colourful high definition graphics

Very easy to play
• Use left joystick to move.
• Tap left and right fire buttons to shoot or hold to down release the plasma bolt.
• Tap bomb to trigger a nova bomb.
Available on